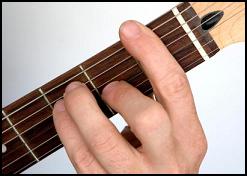 Some definite progress since my last blog post. Since then, I have been able to meet with my mentor during the last weekend of spring break, as well as today. At this point, I have been doing quite well with a lot of the open string chords, such as C, G, D, A, Em, and a lot more.
Now as we move on to new songs, with new chord progressions, I am beginning to see more and more barre chords. This involves one finger is used to hold multiple strings down at once. This may seem like an easy task, but it is quite a challenge to master.
During out last session, I recorded a small segment of our lesson. This is a summary of how it went:
It started off with the topic  of the end performance; what I would be presenting at the In-Depth night, an example of the blue hat. Then came the white hats. I knew from the beginning I wanted to perform a song on-stage, but there were still questions we both knew needed answering. What song will I play? Will there be anyone else or just myself? Will I also sing? At this point we know I have been mainly working on two songs; Take Me to Church by Hozier, and Thinking Out Loud by Ed Sheeran. My mentor Paul, was very open, with the green hat. He was content letting me choose what I want, while throwing out genuine ideas. He even suggested I sing during my guitar performace. Instantly, my red hat came on and completely veto'd that, with no real reasoning. I just didn't want to sing in front of so many people. Finally, there was the song choice. Again, with our yellow hats, we agreed on the fact that the song should both be enjoyable for myself to play, as well as show some proof my progress (i.e. not smoke on the water). Again, the ultimate decision was in my hand, and I decided to choose neither of those two songs. When you practice the same songs for a long time, they get very stale, and you quickly end up losing your interest in the song. Because of this, I have decided to pick another song, which will remain a secret for now. Finally, with our black hats, we analyzed our choice. Overall, it met all the requirements we wanted, and now the only thing was to practice the song, because it may have a simple melody, but the chord progressions are much more difficult to get down.
Now onto post #6
The three songs I have been learning may be very different in genre, but learning and playing them on the guitar involve the same concepts. In my short guitar experience, I have already picked up on a few of the main concepts in playing a song. The first is timing. Arguably the most important, knowing when to switch chords, as well as just staying in rhythm, is a concept that looks simple, but is extremely important. The best way is to play with a metronome, to help yourself stay on track. Next is precision. When playing chords are practicing different strums, it is important to place your fingers precisely to get a crisp, clean sound. If not, the whole song will be ruined by muffed up notes. Lastly, is being natural. Especially with blues and acoustic guitar, it is important to get a feel on the song, and not to sound robotic with the strums. Playing naturally has this soothing vibe that can't be explained. I see that when my mentor plays guitar all the time.
Halfway through the in-depth project, I never expected to learn so much about guitar. With Paul, he teaches in a very simple, natural, way. Pick a song, listen to it, and figure out the chords BY EAR. A skill that I am slowly developing (nowhere near his caliber yet). He has taught me how to make songs feel more natural, and how to give more life and melody into a song with really interesting strumming patterns, making it sound a hundred times more interesting than the regular strumming.
Thinking of what could of happened is a very interesting idea. You'll never know for sure what could of, only what has. Originally, I planned to learn from another mentor, Dennis. Unfortunately, our schedules just couldn't fit the others' so I chose a different mentor. Watching some of Dennis' videos, it is obvious he is a lot more technical, fast-paced, and very precise in his strumming. He is very skilled at finger picking, and the way he plays has a distinct sound. Having Dennis as my mentor, could of made my guitar experience very different, involving fast, precise movements, and learning how to finger pick.